We produce kits for high-visibility stripes and chevrons suitable for any type of vehicle. These are available to buy as self-application kits but contact us for other styles or for fitting.
Manufactured to order from self adhesive yellow flourescent UV Sensitive Vinyl (we cannot offer any life expectancy on this material but manufacturers recommend 1-2 summers), with applied colour reflective red or blue self adhesive vinyl.
Stripes are sold by the meter (1m minimum order) as a set of 2, so...if your van is 5m long then you would order 5m of striping to suit the length of your vehicle, you would receive a set of 5m stripes; 1 for each side.
The stripes are manufactured this way to ensure costs are kept to a minimum and that your stripes/chevrons are both angled in the correct way... both leaning forwards on each side of the vehicle.
High Visibility reflective stripe prices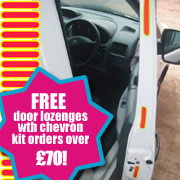 £34.00+Vat per metre
(e.g. a 5m long van equates to 5m x £34.00 = £170)
(prices exclude VAT and £7.50 delivery to UK mainland addresses - added automativally in the PayPal checkout).
Simply contact us by phone on 01827 899982, email us on sales@chatomsigns.co.uk
50mm Single stripes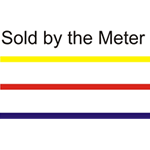 Red, yellow or blue individual reflective vehicle stripes sold by the metre - height 50mm (approx 2").
Call office to order.
For bespoke sizes or bulk pricing, email or call our office on 01827 899982.
Click images for larger view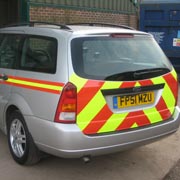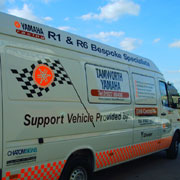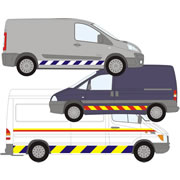 Examples of reflective stripes suitable for decoration or hazard warning